A "Space Cake" is a form of edible cannabis. It can be any cake, pastry, muffin or generically any baked good that is prepared using cannabis butter. Space cakes, like any other form of edible run the gamut of THC levels and other ingredients. Most consumers of space cakes experience body highs that can last for quite a while.
Some individuals contend that true Space Cakes are made only with hash and not any other form of cannabis. Recipes abound online and in print with thousands of variations and potential ingredients. There are as many different types of possible Space Cakes as any other "traditional" baked good.
With a ton of butter in every inch, pound cake is the perfect vessel for fat-loving THC and it is incredibly simple to make at home. Read on for a recipe for the weed space cake of your dreams.
Space Cake Pro-Tips:
Before we get into baking, let's discuss a few pro-tips that will lead you to stellar success.
Scrape down your bowl. After each step, be sure to scrape the sides so that all of the ingredients get evenly incorporated.
Do not over-bake your space cake. If you leave your cake in the oven for too long, it will become a very dry cake and toughen the overall texture.
Try space muffins instead of space cake. If you don't have a 9×5 loaf pan or would simply rather have single-serving space muffins, this recipe makes mouthwatering muffins. Just be sure to butter and flour your muffin tins and then bake them for about 20-25 minutes or until a toothpick comes out clean (a few moist crumbs is okay).
Make it your own. This recipe is flavored with vanilla but you can easily swap in whichever flavors you like to make it your own. Try fresh lemon juice or maple syrup or even add in poppy seeds, shredded coconut, nuts, or really whatever your heart desires. This recipe is easily adaptable to your taste and preferences — so get high and get creative with it!
How long do the effects of a space cake last?
Space cakes are edibles, which means the THC takes a lot longer to kick in than with other cannabis consumption methods. It's always smart to start with a small serving and wait for one to two hours to evaluate the high's effects before taking more. Remember: you can always eat more, but you can't eat less.
Why do edible highs end up feeling more potent than vaping or smoking highs? Well, when you ingest cannabis, the THC in the edible converts to 11-hydroxy-THC in the liver, which is notably more potent. Edibles take longer to process, too, as the THC has to travel through your digestive system to kick in.
How do I calculate the dose per serving?
To find out the dose of one serving of your space cake, you need to do a little math. Start by finding out the THC percentage of the flower you're using to bake with. So, for example, if you start with 1 g of flower containing 20% THC, that would leave you with 200 mg of THC total. After decarbing the flower, you'll lose roughly 10% of that THC (200 x 0.9), leaving you with 180 mg of THC total. Following the extraction in oil or butter where you lose another 40% of the THC (180 x 0.6), you will have 108 mg of THC in that oil.
If you cut your space cake into eight even pieces, each one will have about 13 mg of THC, which is a fairly potent dose for most people. If you're a new or low-dose cannabis consumer, consider lowering the ratio of cannabutter to regular butter in your recipe or slicing your space cake into much smaller servings.
Space Cake Recipe: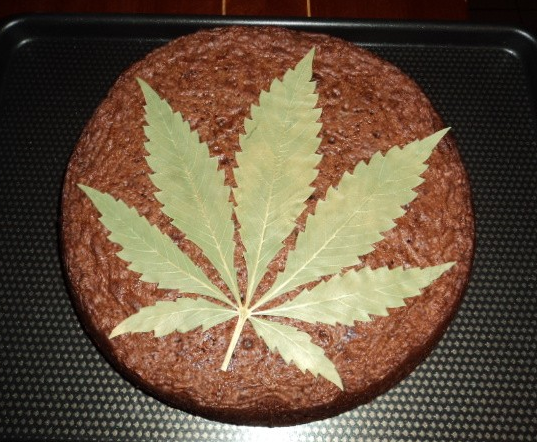 Ingredients: (makes about 12 slices)
1 1/2 cup all-purpose flour
1 tsp salt
1/2 tsp baking powder
1 cup sugar
1 cup softened unsalted butter/cannabutter (the amount/ratio is up to your desired dosage, just make sure to use 1 cup of butter total)
4 eggs
1/2 cup sour cream
2 tbsp vanilla
Instructions:
Preheat oven to 350F. Butter and flour a 9×5 inch baking tin or spray with cooking spray.
In a medium bowl whisk together the flour, salt, and baking powder then set aside.
In a stand mixer fitted with a whisk attachment or handheld mixer (even a fork will do in a pinch) and cream the butter and cannabutter. Add in the sugar and continue to mix until light and fluffy. Scrape the bowl down the sides of the bowl and beat a few more seconds.
Add the eggs in one at a time and mix one at a time until fully combined. Scrape down the sides of the bowl as you go.
Next, add the sour cream and vanilla, and mix well. Scrape that bowl down again.
Add the flour mixture into your wet mixture and stir until combined. Scrape down the bowl one final time and make sure that any lingering butter has been fully incorporated.
Transfer the batter into the 9×5 baking tin and smooth out the surface until it looks fairly even. Bake at 350F for about 40 minutes or until the center is set and a skewer comes out clean (a few moist crumbs are perfectly normal).
Allow to cool in the tin for about 10 minutes before transferring to a cooling rack to cool completely. This cake can be left on the counter for about 3 days if left in an airtight container. It can also be frozen to devour at a later date. Enjoy!
There you have it! Space cake perfection from the comfort of your home. This cake is great on its own, but feel free to go crazy and top it with frosting, a lemon glaze, or any other fixings.
Top 4 Cannabis Strains of Weed Space Cake
Most cannabis strains are currently tested somewhere between 15 and 20% THC. If properly bred, some of the weaker ingredients may only have 10%.
Death Bubba is an indica marijuana strain made by crossing Death Star with Bubba Kush. The result is a pungent strain that produces semi-sedating effects. Death Bubba is known to cause couchlock, so be sure to use this strain when you have nothing important to do. Medical marijuana patients choose this strain to help unknot tension and relieve physical discomfort associated with chronic pain. Death Bubba tastes sweet, earthy and clean on the palate while the aroma is stinky and skunky. Growers say this strain has beautiful purple hues with trichomes and terpenes abound.
Ice Cream Cannabis Strain
The magic of this space cake is the genetic combination of gelato and a wedding cake that has caused trichomes. Consequently, you will want to continue using this marijuana at night, because it is heavy and fast. As a result, helping you to relax before entering the condition of your dreams.
Type: Indica dominant hybrid
THC Content: 22%
CBD Content: 1%
Effect: Calm, happy, sleepy, and happy.
Aroma: Sweet, spicy, and vanilla.
Wedding Cake Cannabis Strain
This space cake is one of the most popular cannabis strains and is relatively easy to find because of its popularity.
Type: Indica dominant hybrid
THC Content: 25%
CBD Content: 0%
Effect: Calm, cheerful, happy, optimistic and creative.
Aroma: Mild, sweet, and vanilla.
Cherry Cake Cannabis Strain
This variety of cannabis is rarely found, offering a unique combination. The Purple Caper Seeds breed this mixture for a rapid breakthrough throughout the body and a delicious and sweet aroma.
Type: Indica dominant hybrid
THC Content: 21%
CBD Content: 0%
Effect: Calm, happy, uplifting, and creative.
Aroma: Berry, cherry, and earthy.
Space cake. Reasons to be careful with space cake or other cannabis edibles
Don't expect to get high immediately from space cake as you would from a vaporiser. When eating space cake caution is important. Understand your own tolerance level. Are you an infrequent cannabis user that gets high from very small amounts? Or are you a frequent cannabis user experienced with the effects of cannabis and able to tolerate the effects of high-dose edibles?
A good coffee shop will be able to advise you about the effects of their cake. Start slowly and build up. If you eat an excessively high-dose of space cake it may feel unpleasant and confusing. So if you can, start with small doses on different days and build up slowly. Try to avoid the unpleasant feeling of eating too much space cake, or other cannabis edible.