Hash comes from trichomes, the ripe, resinous gland heads that line the surface of cannabis plants. Processes to achieve resin separation have been practiced for centuries, however, the rapid rise of cannabis legalization in the Western world has brought new methods in hash preparation that are sweeping legal markets by storm.
Where does hash originally come from?
The word "hashish" originates from the Arabic language, roughly translating to mean "grass." It is believed that the popularization of hash originated around AD 900, although some argue methods such as charas, or the collection of resin from the hands of cannabis farmers, are believed to have existed prior to written documentation.
As a result of early European exploration into Africa, hashish made its appearance in the Western world at the turn of the 19th century. For years, European doctors imported hashish to conduct research, which led to the introduction of various extraction methods that allowed for further refinement into medications.
By the turn of the 20th century, cannabis extractions were accounting for a large majority of Western pharmacopeia. It wasn't until US prohibition of cannabis in the early 20th century that hashish products were outlawed from Western medicine and pushed back into the black market.
Different types of hash
Dry sift hash
With the reemergence of cannabis enthusiasm in the 1960s, hashish found its way back into the limelight. Countries such as Nepal, Afghanistan, and Morocco saw an increase of hash exportation into Western countries. At this time the varieties of hash imported were old world varieties, mainly hard-pressed, brick-like solids made from heat and pressure.
It wasn't until the late 1980s when gland separation was introduced to the West through a machine called the "master sifter." According to Ed Rosenthal and his book Beyond Buds, this breakthrough machine by John Gallardi used vibration to separate the trichome gland heads from the plant material.
Ice water (bubble) hash
During this time, Neil Schumacher and Rob Clarke began experimenting with water extraction methods, the early precursor for what we now refer to as ice water hash, or bubble hash. The equipment used to popularize the ice water extraction method was first introduced to the public in 1997 by Reinhard C. Delp at the High Times Cannabis Cup. His patents would later be adapted and modified by Mila Jansen with her pollinator isolation bags.
This design would be further improved upon by Canadian hash enthusiast Marcus "Bubbleman" Richardson and his popular line of BubbleBags, one of only a handful of companies worldwide who have leased permissions to use methods from the original patent filed in 1999.
What are the health effects of hashish use?
The short-term effects of hashish use include problems with memory and learning; distorted perception (sights, sounds, time, touch); difficulty in thinking and problem solving; loss of coordination; and increased heart rate, anxiety, and panic attacks. The effects may be more intense due to the high concentration of THC found in hash and other concentrates.
THC in marijuana is strongly absorbed by fatty tissues in various organs. Generally, traces of THC can be detected by standard urine testing methods several days after a smoking session. In heavy chronic users, traces can sometimes be detected for weeks after they have stopped using marijuana or its concentrates.
THC in hashish is many times more potent that the levels of THC found in standard marijuana. Levels of THC found in marijuana have skyrocketed over the last two decades. According to samples tested by the DEA, percentage of THC in marijuana has gone from roughly 4% in 1998 to over 15.5% in 2018.
The long term effects of hashish or marijuana concentrate use are not yet fully known; but, long-term marijuana plant-use has been studied.
Psychological effects can include paranoia, anxiety, panic attacks, and hallucinations.
Alterations in heart rate and blood pressure may occur.
People who inhale THC products often have the same respiratory problems as cigarette smokers. These individuals may have daily cough and phlegm, symptoms of chronic bronchitis, and more frequent chest colds. They are prone to lung infections like pneumonia. Marijuana smoke may contain some of the same cancer-causing chemicals found in cigarette smoke (toxins and tar).
Marijuana and THC affects memory, judgment and perception. Learning and attention skills are impaired among people who use marijuana heavily.
Studies show that marijuana use from a young age can affect brain development and IQ levels.
Effects on pregnancy
Any drug of abuse can affect a mother's health during pregnancy.
Some studies have found that babies born to mothers who used marijuana (THC) during pregnancy were smaller than those born to mothers who did not use the drug. In general, smaller babies are more likely to develop health problems.
A nursing mother who uses marijuana passes some of the THC to the baby in her breast milk. Research indicates that the use of marijuana by a mother during the first month of breast-feeding can impair the infant's motor development.
Addictive potential
A drug is addicting if it causes compulsive, uncontrollable drug craving, seeking, and use, even in the face of negative health and social consequences.
While not everyone who uses marijuana or hashish(THC) becomes addicted, when a user begins to seek out and take the drug compulsively, that person is said to be dependent or addicted to the drug.
Some frequent, heavy users of marijuana (THC) develop a tolerance for it. Tolerance means that the user needs larger doses of the drug to get the same desired results that they used to get from smaller amounts.
Long-term marijuana users may also experience withdrawal and addiction problems. Mild withdrawal symptoms that have been reported in those trying to quit include:
irritability
trouble sleeping
decreased appetite
anxiety
cravings
No medicines are available to treat marijuana use disorder, but behavioral support can be effective. Speak with your doctor if you are seeking treatment for marijuana use disorder.
Does hash give you a different high? Is it stronger than weed?
Smoking hash vs. weed can have different effects. Well-made hashish generally has a stronger effect than the plant it came from. This does not apply to all hashish though, as some lower-quality forms may contain copious amounts of 'filler' material which can include sand, henna, plastic, oil, or even animal hair or dung.
But as a general rule, hashish is a more concentrated form of the plant it comes from. In fact, it became the primary means of utilizing cannabis in many countries because local outdoor cannabis was relatively low in cannabinoid concentration. That means a significant amount has to be used in order to achieve a noticeable effect.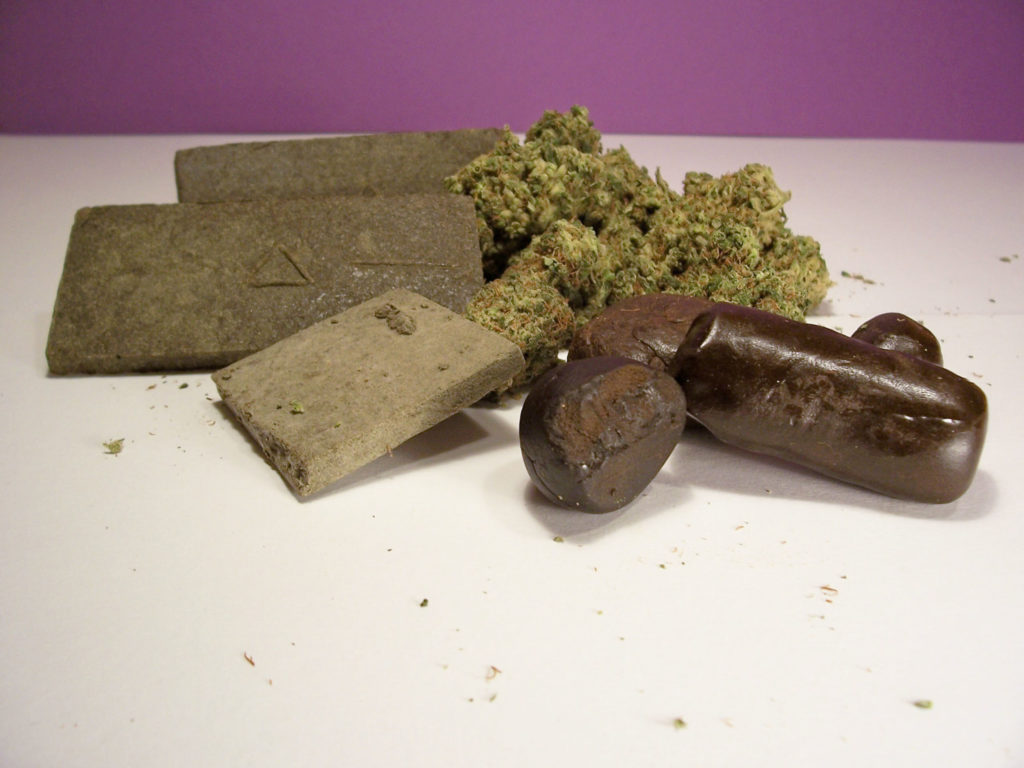 The high of both hash and weed is influenced by the strain of cannabis that was used. Just like weed, the psychoactive elements of hashish should mirror that of the parent plant, though there does appear to be some degree of subjective difference in the nature of the effect compared to weed. For example, many people consider hashish to have a clearer, more cerebral effect, even if the plant itself induces a more relaxed, soporific effect in the user.
The taste may differ as well. Many people consider the taste of hashish to be earthier and less floral than the parent plant, although this can depend greatly on the extraction method and how much plant material remains in the hashish.
How is hash made?
Traditionally, mechanical separation has been the primary means of extracting the resin from the flowers. It's either dried or sieved (dry-sifted) before being shaped and pressed into blocks, or by using the hands to rub the fresh plant so that the resin adheres to the skin and must be scraped off.
Dry-sift hashish is by far the more common in global terms. Several large producer countries including Morocco and Lebanon produce only dry-sift hashish. Even in Afghanistan (along with Morocco, the world's largest hashish producer), the bulk of hashish destined for export is dry-sift. However, Afghanistan is part of the geographical region that is traditionally known for producing hand-rubbed hashish; it still produces significant quantities of hand-rubbed hashish, along with India, Pakistan, and several other South Asian countries.