What are cannabinoids?
The word cannabinoid refers to every chemical substance, regardless of structure or origin, that joins the cannabinoid receptors of the body and brain and that have similar effects to those produced by the Cannabis Sativa plant. The three types of cannabinoids that people use are recreational, medicinal and synthetic.
Research has found that the cannabis plant produces between 80 and 100 cannabinoids and about 300 non-cannabinoid chemicals. The two main cannabinoids are delta-9-tetrahydrocannabinol (THC) and cannabidiol (CBD). The most commonly known of the two is delta-9-tetrahydrocannabinol (THC), which is the chemical that is responsible for the psychoactive effects of cannabis.2
The main difference between the two cannabinoids is that THC has strong psychoactive effects, meaning it makes a person 'high', whereas CBD is thought to have an anti-psychoactive effect that controls or moderates the 'high' caused by the THC. CBD is also thought to reduce some of the other negative effects that people can experience from THC, such as anxiety.
The endocannabinoid system
The endocannabinoid system is a unique communications system found in the brain and body that affects many important functions. It is made up of natural molecules known as cannabinoids, and the pathways they interact with. Together, these parts work to regulate a number of activities, including mood, memory, sleep and appetite.
What do cannabinoids do?
Similar to opioids, cannabinoids produce their effects by interacting with specific receptors, located within different parts of the central nervous system. Simply put, cannabinoids regulate how cells communicate – how they send, receive, or process messages.
Types of cannabinoids
Cannabis – the dried leaves and flowers (buds) of the cannabis plant that are smoked in a joint or a bong. This is the most common form.
Hemp – the fibre of the cannabis plant, extracted from the stem and used to make rope, strong fabrics, fibreboard, and paper.
Medicinal cannabinoids including pharmaceutical cannabis products that are approved by an organisation such as the Therapeutic Goods Administration (TGA), including nabiximols (Sativex®) and synthetic cannabinoids such as Dronabinol®.
HU-210 – a synthetic analogue of THC, first synthesised in Israel in 1988 and considered to have a potency of at least 100 times that of THC.
UR-144 – similar effects to THC, though slightly less potent than THC.
JWH – a series of synthetic cannabinoids created in 1994 by Dr John W. Huffman for studies of the cannabinoid receptors.
5F-ADB – a synthetic cannabinoid that was first identified in late 2014 from post-mortem samples taken from an individual who had died after using a product containing this substance.
CUMYL-PEGACLONE emerged in late 2016 on the German drug market.9 Anecdotal reports suggest that there are a number of adverse effects associated with CUML-PEGACLONE.
Effects of cannabinoids
Cannabinoids exert their effects by interacting with specific cannabinoid receptors present on the surface of cells.
These receptors are found in different parts of the central nervous system and the two main types of cannabinoid receptors in the body are CB1 and CB2.
In 1992, a naturally occurring substance in the brain that binds to CB1 was discovered, called anandamide. This cannabinoid-like chemical and others that were later discovered are referred to as endocannabinoids.
The effects of cannabinoids depends on the brain area involved. Effects on the limbic system may alter the memory, cognition and psychomotor performance; effects on the mesolimbic pathway may affect the reward and pleasure responses and pain perception may also be altered.
Explore cannabinoids on the Drug Wheel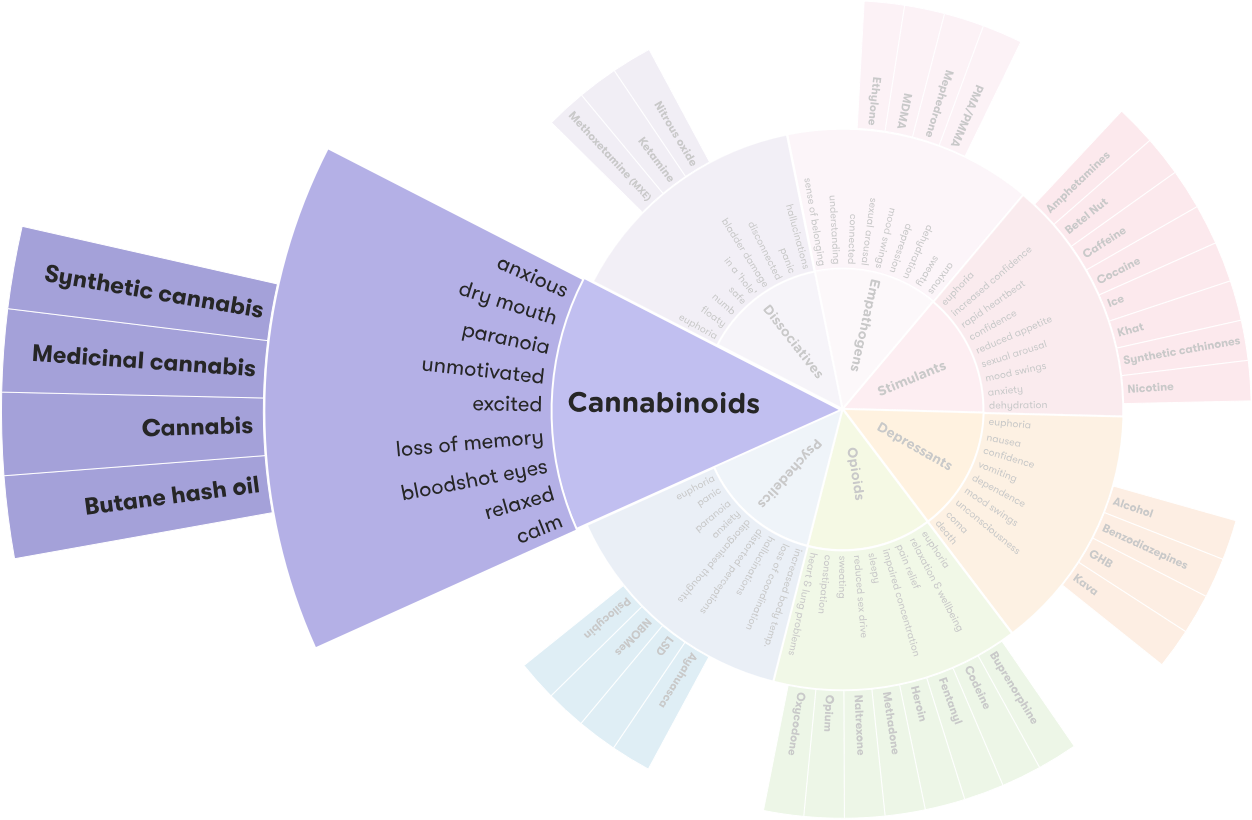 Differences between cannabinoids
The main way in which the cannabinoids are differentiated is based on their degree of psychoactivity.
For example, CBG, CBC and CBD are not known to be psycholgically active agents whereas THC, CBN and CBDL along with some other cannabinoids are known to have varying degrees of psychoactivity.
The most abundant of the cannabinoids is CBD, which is thought to have anti-anxiety effects, possibly counteracting the psychoactive effects of THC.
When THC is exposed to the air, it becomes oxidized and forms CBN which also interacts with THC to lessen its impact.
This is why cannabis that has been left out unused will has less potent effects when smoked, due to the increased CBN to THC ratio.
Classes of cannabinoids
The cannabinoids are separated into the following subclasses:
Cannabigerols (CBG)
Cannabichromenes (CBC)
Cannabidiol (CBD)
Tetrahydrocannabinol (THC)
Cannabinol (CBN)
Cannabinodiol (CBDL)
Other cannabinoids including cannabicyclol (CBL), cannabielsoin (CBE) and cannabitriol (CBT)
Are cannabis or cannabinoids helpful in treating health conditions?
Drugs containing cannabinoids may be helpful in treating certain rare forms of epilepsy, nausea and vomiting associated with cancer chemotherapy, and loss of appetite and weight loss associated with HIV/AIDS. In addition, some evidence suggests modest benefits of cannabis or cannabinoids for chronic pain and multiple sclerosis symptoms. Cannabis isn't helpful for glaucoma. Research on cannabis or cannabinoids for other conditions is in its early stages.
The following sections summarize the research on cannabis or cannabinoids for specific health conditions.
Pain
Helping To Decrease Opioid Use
Anxiety
Epilepsy
Glaucoma
HIV/AIDS Symptoms
Inflammatory Bowel Disease
Irritable Bowel Syndrome
Movement Disorders Due to Tourette Syndrome
Multiple Sclerosis
Nausea and Vomiting Related to Cancer Chemotherapy
Posttraumatic Stress Disorder (PTSD)
Sleep Problems
Are cannabis and cannabinoids safe?
Several concerns have been raised about the safety of cannabis and cannabinoids:
The use of cannabis has been linked to an increased risk of motor vehicle crashes.
Smoking cannabis during pregnancy has been linked to lower birth weight.
Some people who use cannabis develop cannabis use disorder, which has symptoms such as craving, withdrawal, lack of control, and negative effects on personal and professional responsibilities.
Adolescents using cannabis are four to seven times more likely than adults to develop cannabis use disorder.
Cannabis use is associated with an increased risk of injury among older adults.
The use of cannabis, especially frequent use, has been linked to a higher risk of developing schizophrenia or other psychoses (severe mental illnesses) in people who are predisposed to these illnesses.
Marijuana may cause orthostatic hypotension (head rush or dizziness on standing up), possibly raising danger from fainting and falls.
The FDA has warned the public not to use vaping products that contain THC. Products of this type have been implicated in many of the reported cases of serious lung injuries linked to vaping.
There have been many reports of unintentional consumption of cannabis or its products by children, leading to illnesses severe enough to require emergency room treatment or admission to a hospital. Among a group of people who became ill after accidental exposure to candies containing THC, the children generally had more severe symptoms than the adults and needed to stay in the hospital longer.
Some long-term users of high doses of cannabis have developed a condition involving recurrent severe vomiting.
There have been reports of contamination of cannabis/cannabinoid products with microorganisms, pesticides, or other substances.
Some cannabis/cannabinoid products contain amounts of cannabinoids that differ substantially from what's stated on their labels.
Can CBD be harmful?
There's evidence that CBD may be harmful to some people.
Before the FDA approved Epidiolex (a purified CBD product) as a drug, studies were done to evaluate its effectiveness and safety. Some participants in these studies had side effects (mostly diarrhea or sleepiness), and some developed abnormalities on tests of liver function. In some instances, study participants had to discontinue Epidiolex because of liver problems. Epidiolex also interacted with some of the other drugs these people were taking.
Problems like these can be managed in patients taking Epidiolex because they're using CBD under medical supervision. People who use CBD on their own don't have this kind of protection. They may not even know how much CBD they're taking. A 2017 analysis of 84 CBD products sold online found that 26 percent contained substantially less CBD than the label indicated, and 43 percent contained substantially more.