Legislation history
Nevada marijuana legalization began when voters passed the Medical Use of Marijuana Act, or Question 9, in 2000. It legalized home cultivation of cannabis for medical use and created a patient registry system. However, medical marijuana sales in Nevada didn't take place until 2015.
Legal recreational use followed when the Regulation and Taxation of Marijuana Act, or Question 2, was approved by voters in November, 2016. The Nevada recreational weed laws went into effect in July 2017, allowing adults 21 and older to purchase and consume cannabis for personal use. Before approval of Question 2, possession and consumption were reserved for medical cannabis patients suffering from serious health issues.
You can find out about British Columbia here!
Is weed legal in Nevada?
Adults 21 years of age and older in Nevada may possess up to one ounce of pot for personal use. Or they may possess up to 1/8 of an ounce of marijuana concentrate (such as hashish). Concentrate is the separated resin, either crude or purified.
It is illegal to consume recreational cannabis outside a private residence. And residential owners may prohibit marijuana on their own property.
Examples of public places where pot is illegal under state law include:
Hotel rooms,
Casinos,
Schools and universities,
Dorm rooms,
Common areas in apartment buildings,
Offices buildings,
Restaurants,
Bars,
Stadiums,
Public restrooms, and
Federal property1
Las Vegas has legalized public pot consumption in social use venues. But the governor delayed this legalization until 2021. However, people can currently consume pot legally in the Paiute cannabis lounge.
Penalties
Smoking weed in public is a misdemeanor carrying a $600 fine in the state of Nevada.
A first offense of having more than 1 oz. but less than 14 grams is a category E felony. Courts grant eligible defendants who plead guilty or no contest a deferral of judgment, which means the charge will get dismissed if the defendant completes various court-ordered sentencing terms. Otherwise, category E felony convictions carry probation and a suspended sentence. (But if the defendant has two or more prior felony convictions, the court may order one to four years of Nevada State Prison and a maximum of $5,000 in fines.)
Where can marijuana be purchased?
In licensed dispensaries. Purchasers must show their ID. And they may not consume the pot until they get home.
On the drive home, the weed must remain in a sealed container. Ideally it should also be out of view in the trunk or glove compartment. Neither drivers nor passengers may consume pot in a vehicle.
Dispensaries
Most marijuana dispensaries are in Las Vegas, Henderson, and Reno. A county's population determines the number of dispensaries it can license.
Clark County has the most: 80 licenses. Washoe County has the second-most: 20 licenses. Carson City has four. And the remaining 14 counties have two licenses.
Local governments determine their dispensaries' store hours. And the dispensaries must keep these hours conspicuously posted. Currently, Las Vegas dispensaries may operate between 6:00 A.M. and 10:00 P.M. And in Reno, closing must be no later than midnight.
Many dispensaries are licensed to sell both recreational and medical marijuana. Consumers of recreational pot pay a regular sales tax
Is a medical marijuana card still necessary at all?
There are still a few advantages to having a medical card. You avoid a retail excise tax of about 10% charged to recreational sales. You also have access to a greater variety of product — and by "greater variety," we mean stronger. Edibles, for example, can't exceed 100 milligrams of THC per package and 10 milligrams per serving for a recreational sale (with a variance of 15 percent allowed by state law). "Medical patients can purchase in excess of that," says Brandon Wiegand, director of operations for The+Source, which operates dispensaries in Las Vegas and Henderson. "So there are 300-milligram, 500-milligram, or 1000-milligram edibles that medical patients may opt to use."
How can I get a medical marijuana card?
Consult with a doctor about why you might medically benefit from the use of cannabis. Qualifying conditions include cancer, HIV, glaucoma, PTSD, cachexia, multiple sclerosis, seizures, severe nausea, or severe pain.
"Chronic pain, nausea, and PTSD are probably the three most common we see," says Wiegand. "Any doctor can write the prescription. It doesn't mean the doctor will write the prescription."
From there, you can apply through a Nevada government website portal, which includes a registration fee of $50 for one year or $100 for two years. Add in whatever you paid for the doctor's consultation — not to mention the overall time and hassle — and you may realize it's just easier and more cost-effective to stick with recreational sales after all. It probably depends on how much weed you plan to buy in the near future.
Where to Buy Legal Weed in Las Vegas
Planet 13
The largest cannabis "superstore" in the world is only getting bigger. Planet 13 is in the process of expanding its sales floor to a total of 85 registers and recently added a store-within-a-store for Curaleaf's Select brand. Does it really look like a Target for weed? Not really, but it's got a lot of fun extras, including a touch-sensitive LED floor and regular shows by flying orbs. It's also within easy walking distance of the Strip. Best sellers include Mike Tyson's Tyson Ranch and Reina by Latina ganjaprenuer Priscilla Vilchis. The place seems destined for an on-site consumption lounge once the legalities are sorted out, but for now, you can grab a bite at Trece, a cafe and bar that despite popular misconception, does not serve infusions. Planet 13 also operates Medizen in the Southwest Valley—a smaller, boutique spot that recently reopened with a fresh renovation and a mural honoring Vegas icons behind the cash registers. A second Planet 13 superstore is opening soon in California near Disneyland. It's a small world after all.
How to order: Visit in person (with late-night hours available) or take advantage of curbside pickup or delivery.
You can find out about Cannabis Users Donate Blood here!
Reef
Reef has six locations throughout Nevada and Arizona, but the flagship dispensary (across the street from Planet 13, actually) makes the biggest impression. The operation hosts sales and cultivation within the same warehouse-like space west of the Strip—and don't be surprised if you get a whiff of the good stuff when driving by. Reef is owned by Tryke, a cannabis company best known for producing Wiz Khalifa's Khalifa Kush (or as regulars call it, "KK"), which the rapper originally founded as a small operation in California. The Exotikz collab by Berner and Jungle Boys is also popular. While some dispensaries are stiff and sterile, Reef has a loose vibe with social budtenders and a mix of reggae and hip-hop on the sound system.
How to order: Visit 24/7 or order online.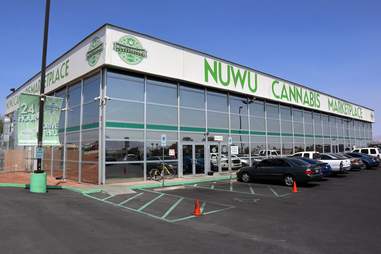 NuWu Cannabis Marketplace
NuWu is close to Downtown attractions like the Fremont Street Experience and Neon Museum—and best known for having a drive-thru window. Since the Paiute-owned operation is on tribal land, it was able to legally open the first public consumption lounge (or "tasting room") in Las Vegas, which unfortunately, has been temporarily closed since the onset of the pandemic. Not having to pay Nevada's 10% sales tax on cannabis is another perk. The store itself is huge with at least 900 products from more than 150 brands. A second, smaller, less-fancy version of NuWu is in the Northwest corner of the valley next to the Las Vegas Paiute Golf Resort—and your best bet for picking up stash while on a road trip to Mt. Charleston.
How to order: Downtown drive-thru is open 24 hours while the Northwest drive-thru is open until midnight. Online ordering is available at both locations.