Growing marijuana outdoors is great because you won't need to spend a ton of money on it and you can rely on the power of the sun. If you have access to a sunny spot in a private yard or even a balcony, terrace, or rooftop, you can grow weed outside. You will be tied to the sun and the seasons and local weather, but you won't have to spend a bunch of money on equipment and utilities like indoor growers.
If you're growing weed outdoors, it's great to find a community of cannabis growers in your area to see how others are growing in your specific climate. Local climates vary, so it can be helpful to see what strains thrive where you are, and also when other growers are popping seeds, harvesting, and more. You can also join online forums or Social media groups, but a great place to start is your local grow shop.
You can find out Can Dogs Get High here!
Benefits of growing weed outdoors
Low costs
Relying on the power of the sun, you won't need to spend a ton of money on an outdoor grow. You'll need some soil, fertilizer, seeds or clones, and maybe a small greenhouse to get them started. You won't need to pay for electricity for lights, AC units, or dehumidifiers, and you can even collect rainwater.
Big yields
The sky's the limit with outdoor plants—you can let them get as big and tall as you want, as long as they're manageable. One plant can potentially yield between a half-pound and full-pound of dried weed! Growing a handful of hands for yourself is more than enough. With an indoor grow, your space is a lot more restricted.
Environmentally friendly
Indoor grows can be wasteful, using a ton of electricity to power all those lights, fans, and other equipment. The sun and the wind are free!
It's fun and relaxing
Don't underestimate the therapeutic value of gardening. It's relaxing to spend some time outside, roll up your sleeves, and get your hands dirty for a while. And there's nothing better than smoking something you grew yourself.
Growing Cannabis Indoors vs Outdoors: Differences
Growing outdoors usually means more space to work with, plenty of sunshine, free rainwater, better ventilation, and the joy of cultivating in the elements.
However, growing outdoors also comes with a set of challenges. Plants are more vulnerable to pest insects, larger predators, heat waves, and cold snaps.
Growing indoors offers plants more shelter, and cultivators are in complete control of the growing environment. They are free to change temperature and humidity settings, and their plants are more concealed.
With that said, indoor growers usually have less space at their disposal, less potential for massive yields, and have to splash money on electricity bills to run their setup.
How to grow marijuana outdoors
To grow cannabis outdoors, the bare minimum required is basic gardening tools, soil, pots, a hose with access to water, and a spot in your backyard that receives ample sunlight.
Using mother nature to cultivate cannabis
Cannabis is a hardy plant that has adapted to climates all over the world. From the cool and arid mountains of Afghanistan to the humid regions of Colombia, the plant has been forced to adapt over time to build its defenses against a host of conditions. But cannabis is still susceptible to extreme weather conditions. Whether it is heavy winds breaking branches or excessive rain causing mold, the great outdoors presents challenges to growers that can be avoided with sufficient planning.
Becoming intimately familiar with your local climate and seasons is one of the most important steps in producing high-quality outdoor marijuana. Before you grow, you'll need to know the ideal temperature your plant needs in order to thrive, the season's photoperiod — the amount and intensity of light available through the duration of the growing season, the best site, and the optimal timing of your planting and harvesting.
Some cannabis genetics have adapted to specific climates and are capable of growing more easily in certain conditions than others, so cultivators pay very close attention to the cultivars, more commonly referred to as strains, that they choose. A little research will go a long way in ensuring you have a successful harvest. While cultivars may vary, there are some general rules of thumb that will be useful no matter which cultivar you choose.
Daytime temperatures between 75 and 85 degrees Fahrenheit, or 23.9 to 25.4 degrees Celsius, are ideal for cannabis, while temperatures above 88 degrees Fahrenheit (31.1 degrees Celsius) or below 60 degrees Fahrenheit (15.6 degrees Celsius) can delay growth. Cannabis is considered heat-tolerant, but sustained highs and extreme lows will usually lead to complications that could eventually kill your plants.
In the Northern Hemisphere, cannabis can be planted in early to mid-spring and usually harvested in mid-fall, depending on the cultivar. In the Southern Hemisphere, the growing season will be reversed, planting in early to mid-fall and harvesting in the middle of spring.
During the first half of the season, the daytime period increases until the summer solstice, which occurs in the Northern Hemisphere on or around June 21 and in the Southern Hemisphere on or around December 21. While the daylight hours increase, the plant's vegetative stage takes place. During vegetation, the plant will develop the roots and stems that will serve as the foundation for growth until flowering.
After the solstice, the available daylight hours decrease, allowing the plant to naturally transition into the flowering period. Cannabis is a short-day plant, meaning it will begin to flower as the nights get longer and the hours of sunlight decrease.
Most cultivars will begin to flower once they receive fewer than 15 hours of sunlight per day. The latitude of your garden has a direct impact on how many hours a day your plants receive light.
It is important to plan your planting schedule to ensure your plants are able to finish their flowering period before the cold, rainy fall weather is able to affect them.
Choosing the best site for outdoor cannabis growth
Choosing the best site for your garden is another important factor that can affect the yield and quality of your plants. Cultivators in the Northern Hemisphere should attempt to place their plants in an area with southern exposure to ensure their plants are getting the most available sunlight by facing the sun's archway near the equator. The opposite is true for the Southern Hemisphere.
When possible, use natural structures and formations in your garden as windbreaks to prevent excessive stress on your plants that could lead to branches breaking.
If you live in a climate with exceptionally hot and sunny days, shade cloth can be used to prevent your plants from overheating. In cold areas, natural enclosures and cement or brick walls can be used to help retain any available heat to keep your plants warm.
Depending on your location, you may need to plan for rain. In most regions, the rainy season is typically aligned with the end of the flowering stage and the start of the harvesting period, but this may not always be the case. Rain can be detrimental to an outdoor flowering crop and being prepared to cover or move plants can help ensure a successful harvest. If it does rain on your plants, make sure to immediately shake off any excess water, as excessive moisture can lead to the formation of mold, which can ruin your harvest.
Planning your garden
Seeds vs. clones
Deciding whether to start with seeds or clones will change the timing and manner by which your plants are introduced to the outdoors.
Plants grown from seeds are typically heartier and more vigorous than clones, as they produce a sturdier taproot that clones are not able to replicate. The vigor that comes from deep roots can be an advantage when dealing with harsh environmental conditions and pest pressures. The disadvantages of growing seeds is the additional attention required to germinate the seedlings, the necessity to eliminate any males before they pollinate the females, and the high variability in growth characteristics that results from their genes.
If you decide to use seeds, make sure you start them about a month before you would typically start clones to give them time to germinate and adequately develop their taproot.
There are also many advantages and disadvantages of using clones. They can be found at your local dispensary, are from a proven genetic lineage, and typically do well outdoors, making them the perfect choice for inexperienced growers. On the other hand, clones develop a fibrous root system, as opposed to the deep taproots that are developed with seeds. Fibrous root systems can reduce their ability to deal with environmental stress and predatory insects.
Whether starting from seeds or clones, many cultivators start growing their plants indoors to ensure the plants are not exposed to excessive weather conditions as they develop their initial root system. The plants are transitioned outdoors when the weather and photoperiods, or the times in which a plant is exposed to light, are ideal. Extending the indoor vegetative growth period can help increase yields and allow growers time to select the best plants to be moved outdoors.
Media and containers
There are many options when it comes to types of soil and how you can plant your cannabis plants outdoors.
Quality soil should be dark, rich in nutrients, and have a light and fluffy texture. The structure of your soil should be capable of retaining water while also allowing for excess drainage. Organic potting soil blends from your local garden center will do just fine, but more advanced growers prefer to blend their own organic soil from scratch. The soil itself should be slightly acidic with a pH of around 6. This can be tested with a soil pH meter or test kit.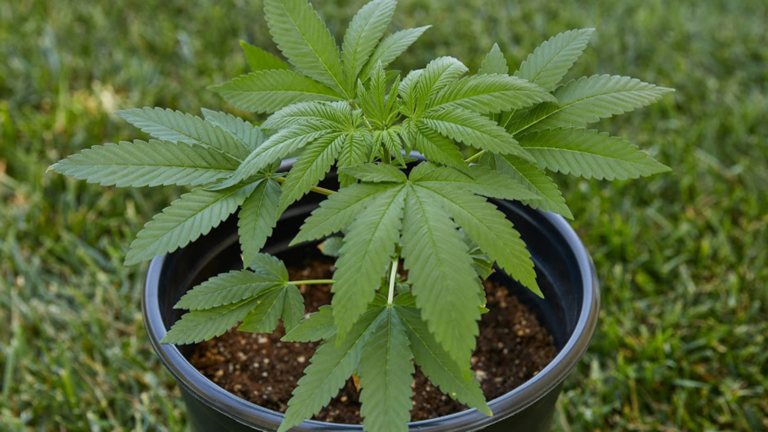 Container gardens can be convenient as they can be moved around the garden to maximize sunlight or protect them from harsh conditions such as rain, heavy winds, or extreme temperatures.
Avoid clay pots as they can be costly, heavy, and retain heat that could dry out the plant's soil and roots. Fabric pots are the least expensive and most effective solution, as they allow for ample drainage and plenty of oxygen to get to the roots. Plastic containers are also light and inexpensive, but tend to retain more heat than fabric pots. Flowering plants need a container that is at least 5 gallons, or 18.9 liters, or larger to prevent the plants from outgrowing their containers and becoming rootbound.
Planting directly into the ground or a raised bed requires a bit more preparation, but has its benefits as well. Without a container to restrict growth, roots can grow deep and thick to support a strong plant. The added surface area also allows the plant to access a greater quantity of nutrients and water in the soil, compared with a container garden. The major downside is that the plants cannot be moved and could require additional structures to protect them in the case of extreme weather.