Edibles are cannabis-infused foods or drinks. They deliver cannabinoids to the body through the mouth and digestive system and are generally an alternative to smoking or vaping cannabis.
Edibles containing tetrahydrocannabinol (THC) will cause a similar high or euphoric feeling as smoking cannabis. In some ways, edibles are a more potent way to deliver these cannabinoids. Research shows that the effects from an edible take up to about 1 hour to kick in but can last for 6 or more hours. In contrast, the effects of smoking or vaping THC tend to last 1–4 hours.
Edibles also do not carry some of the risks of smoking cannabis, such as chronic cough and phlegm production. However, knowing what amount to take can be tricky, as each person will respond to a different dose.
When trying out a new edible, it is important to start with a low dose to see how the body responds. With edibles, it is easier to take an excessively high dose and feel negative side effects than it is with smoking.
Keep reading to learn more about edibles, including how long they last, how they work, dosage, and risks.
Do edibles have a similar shelf life to regular foods?
According to Scott Riefler, Chief Science Officer at SōRSE Technology, the answer is yes. "If the cannabinoid is introduced in an appropriate manner … we would not expect it to alter the shelf life of the food platform itself." Meaning, for example, that a cannabis-infused chocolate bar should last as long as a traditional one. 
Starting from there, a lot will be common sense—check the best-by date on the package to ensure a nice long shelf life and maximum flavor and texture in the product, and pay extra attention to the expiration date, which will indicate when a product is no longer safe to consume. And much like foods found in every grocery store, edibles with preservatives will last longer than those that are preservative-free.
Overall, this is good news for those wanting to buy in bulk. "Most edibles have very good shelf life," said Riefler. "If you are stocking up, we would suggest that for any food platform, that you not buy beyond six months ahead."
But what about for those who are crafty in the kitchen and want to make their own edibles?
"First, consider the non-infused counterpart of what you are trying to make; think about how you store it and how long it takes you to consume it or use it. The cannabinoid content will not impact the shelf life of [the] food itself," said Riefler.
How long does it take before you begin to feel the effects of edibles?
Edibles typically take around 30 to 60 minutes to kick in. However, onset time depends on a lot of factors.
First, it depends on the product's active ingredients. If the product contains a high dose or concentration of THC, it could take effect faster.
Keep in mind that CBD-only edibles are not psychoactive. They don't cause the "high" typically associated with THC-infused edibles. As a result, it may be harder to identify when CBD products have taken effect.
For both types of products, onset time also depends on where in the body the edibles are being broken down and absorbed into the bloodstream.
Lozenges, gum, and lollipops kick in faster because they're absorbed sublingually
Some edible products, such as lozenges, gum, and lollipops, are ingested but not actually swallowed. In these cases, absorption occurs through the mucus membranes of the mouth. This is called sublingual absorption, and the effects are more likely to appear faster.
Chewable edibles take longer to kick in because they're absorbed through the digestive system
Chewable edibles, such as gummies, cookies, and brownies, may have longer onset times. This is because absorption first occurs in the digestive tract. From there, active ingredients enter the bloodstream and travel to the liver.
In the liver, active ingredients are metabolized before they are released back into the bloodstream and enter the brain, at which point the effects appear.
Other factors affecting onset time
Other factors that can affect how quickly you start to feel the effects of ingested edibles are related to your habits and physical makeup. They include your:
diet
metabolism
sex
weight
tolerance to cannabis
Since edibles don't kick in right away, it can be tempting to take more soon after your first dose. This can lead to taking too much.
You should always wait at least 24 hours before taking another dose.
How long do they last?
While edibles take a long time to kick in compared with smoking or vaping, they also tend to last much longer. The average dose from an edible can last 6 or more hours, with the strongest effects occurring about 3 hours after ingestion.
Again, this will vary depending on a few factors, such as dosage, metabolism, and tolerance levels. Taking a very large dose or a dose with very potent THC levels may cause a stronger, longer high, as the body takes time to process the THC out of the system.
Individual tolerance levels will also play a large part here. People who are not used to cannabis products may feel the effects more strongly and for much longer than a person who regularly uses cannabis products, if they take the same dose. Tolerance levels will also fluctuate depending on how much cannabis a person has smoked or ingested within a period.
Again, metabolism may also play a role, and a person with a very fast metabolism may not feel the effects for as long as someone with a slower metabolism.
In general, it is likely that the high from an edible will last for a few hours. The authors of a review article note that the effects from edibles last about 6–8 hours. However, it is not uncommon for the high to last up to 8–12 hours if the person is sensitive but only about 4 hours if the person has a higher tolerance.
Common forms of edibles
Edibles come in many different forms, and new products come onto the market almost daily. Common types of edibles include:
Baked goods: brownies, cookies, biscuits, and waffles.
Candy and sweets: gummies, chewing gum, lozenges, lollipops and hard candy, chocolate, truffles, fruit bars, and marshmallows.
Beverages: coffee, tea and iced tea, soda, energy drinks and shots, beer, wine, and alcohol.
Other products: jerky, butter, sugar, and syrups.
How much should you take?
Most edible cannabis products identify how much THC or CBD is in a single serving. For instance, a single gummy typically contains 10 milligrams (mg) of THC.
In some cases, though, the manufacturer lists the THC or CBD content of the entire package or food item. To use the gummy example, a package might contain 100 mg of THC. If the package contains 10 gummies, that's 10 mg per gummy.
This can be quite confusing with food items such as brownies and cookies. In some cases, it might mean that a single dose corresponds to a fraction of the item.
Be sure to read the label
It's important to read the label carefully before you consume the product. Look for the THC or CBD content per serving, and identify whether the serving size refers to the entire product or only a portion.
That said, even when you know exactly what you're consuming, edible dosing isn't always predictable. There are a lot of variables involved.
It's best to start with a low dose, and work your way up to a dose that produces the desired effect.
Here are some general dosing suggestions for THC and CBD edibles.
THC dosing
THC tolerance isn't the same for smoking and edibles. Edible THC typically produces more intense effects.
According to a 2015 report commissioned by the Colorado Department of Revenue, the behavioral effects of eating 1 mg of THC are comparable to those associated with smoking 5.71 mg of THC.
Even if you're a regular marijuana smoker, you should start with a low dose. Over time, you can increase the dose until you reach the desired effect.
Doses that exceed 20 to 30 mg per day are associated with an increased risk of negative side effects, including dependency.
| Effect | Limited to no THC tolerance | Some THC tolerance (smoking) | THC tolerance (smoking) | THC tolerance (edibles) |
| --- | --- | --- | --- | --- |
| mild | > 2.5 mg | 2.5–5 mg | 5–10 mg | 10–15 mg |
| moderate | 2.5–5 mg | 5–10 mg | 10–15 mg | 15–30 mg |
| strong | 5–10 mg | 10–20 mg | 15–30 mg | > 30 mg |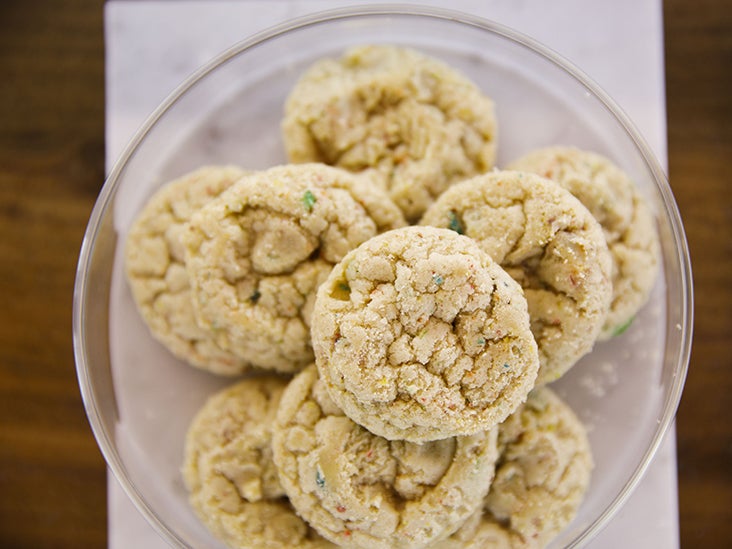 CBD dosing
Since CBD does not produce psychoactive effects, there's less risk if you take too much. Still, high doses may cause undesirable side effects, such as fatigue.
As with THC edibles, it's best to start small. Opt for a low dose between 2.5 and 10 mg, and work your way up to a CBD dose that produces the desired effects.
Since CBD can make you sleepy, it's best to take it in the early evening until you understand how it affects you.